Back to Blog
Digital Transformation: Driving innovation and resilience in the digital age
The need to remain competitive in an increasingly digital world is a reality that all companies must face up to, and the extent to which they're equipped to do so is referred to as digital maturity. The digital business landscape is changing so rapidly and so constantly that no company can ever claim to have reached full digital maturity; it's less of a fixed point to strive for and more of an ongoing adaptation process – and that process is digital transformation.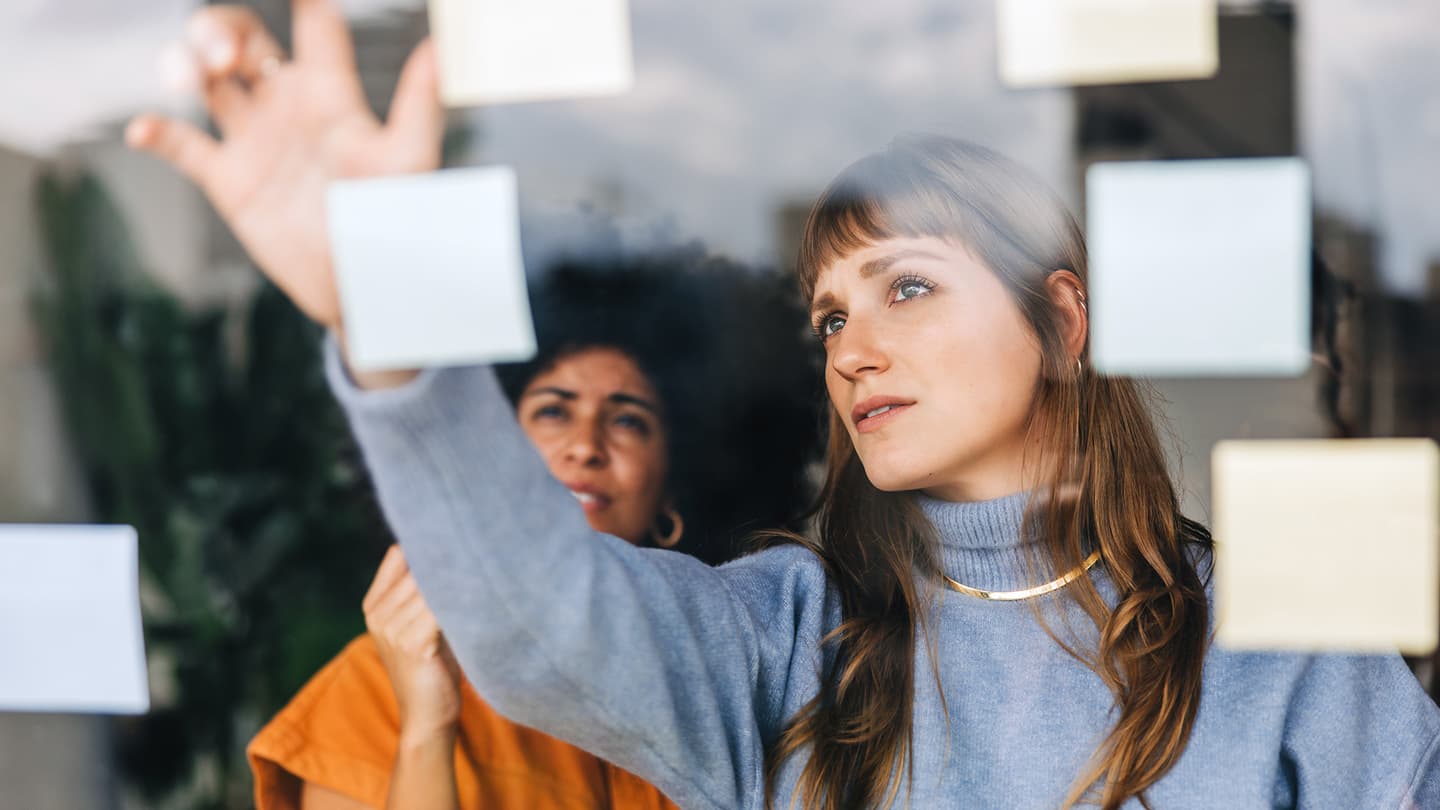 Digital transformation creates customer value and builds efficiency
Digital transformation can take many forms; every organization has different customer challenges, priorities, values and resources, so as with any maturation process it's rarely linear and never straightforward. Each organization needs to define what digital maturity means for them, based on their strategic goals and what's blocking goal achievement. That said, some typical hallmarks of maturity include having a clear and cohesive digital strategy, a habit of working cross-functionally and collaboratively, a long-term mindset and a culture of experimentation towards innovation.
The main benefit of undergoing digital transformation is resilience to change and uncertainty. Digital transformation can help an organization to future-proof in several ways:
increasing efficiency
harnessing innovation
developing closer relationships with customers
building a data strategy that improves value creation being culturally and structurally prepared to adopt digital technologies that can help the organization thrive as the future unfolds
saving resources by automating manual work
creating value by harnessing data that can help the company better understand its processes, value chains, customers and competitors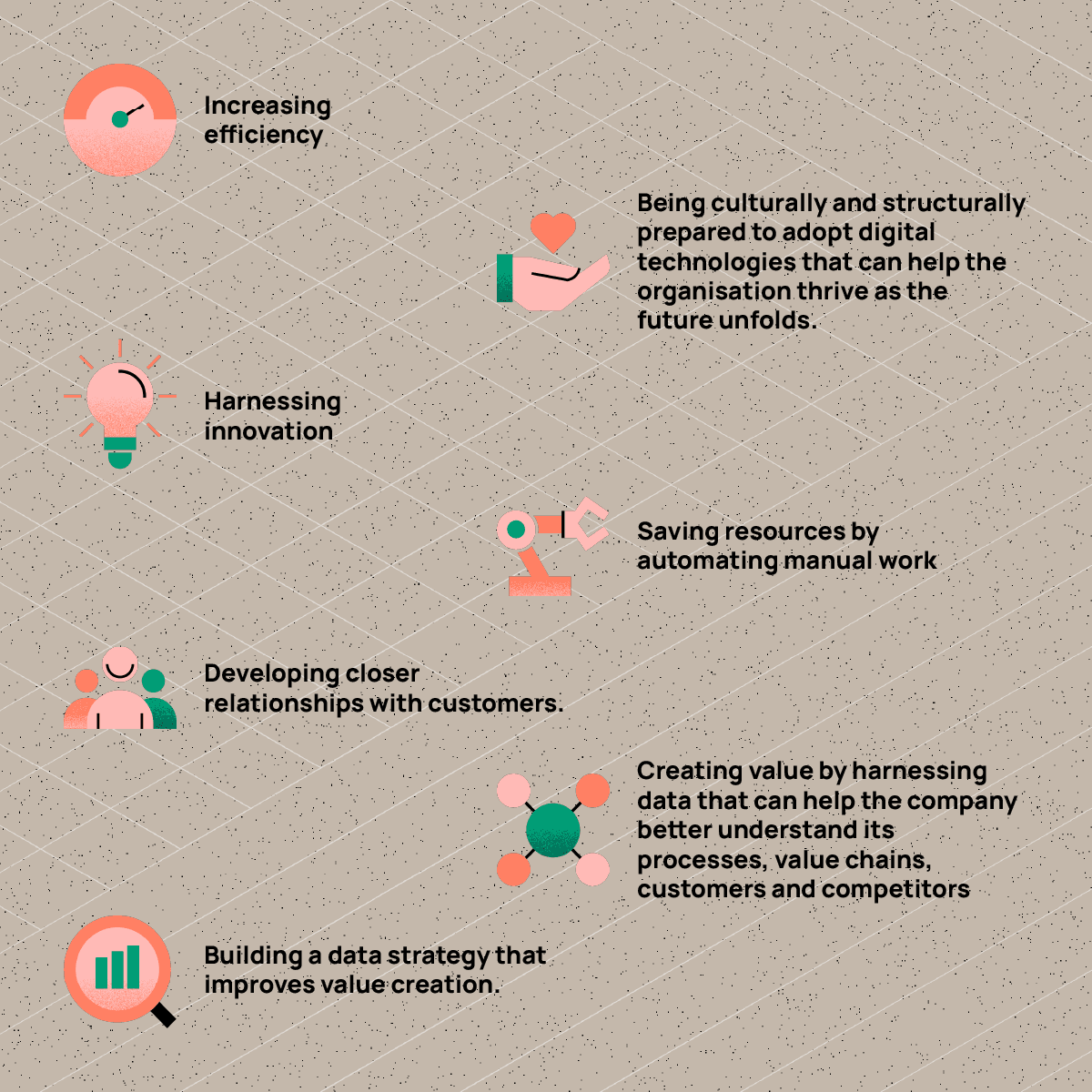 In addition to data-driven insights, another key element of creating true value through digital transformation is opening up the opportunity to collaborate in ecosystems.
In recent years there has been an increasing movement towards a new paradigm of innovating through cross-company and cross-industry co-operation, leading to new business models built on digital platforms. This approach enables companies to create synergistic value beyond their own internal capabilities by breaking up large-scale silos and allowing data and innovation to flow between companies and even industries, benefiting all parties by creating far greater efficiencies and customer value.
The decisions that are now being made around digital ecosystems will pave the way for organizations to grow and extend their value chains in the future. Because data is central to the insights that drive this movement, the ability to collect, clean, interpret and utilize it effectively is critical to value creation.
How can companies measure their digital maturity, and why should they?
For an organization looking to mature digitally, an important starting point is to pinpoint its current maturity level. But because different things work for different companies and there's no single way to do digital transformation, there isn't really a consistent performance to benchmark against. So how can we recognise digital maturity when we see it, and is it even possible to measure or quantify?
Take for example the work we've done with PHHYKY. Once a company has identified its current maturity level, it will have better visibility of what it needs to do to get to the next milestone. Rather than using a framework to simply take a snapshot of the present situation and then accept or forget about it, organizations should check in frequently to identify their maturity level and then use this information to plan for the next stage in their transformation journey. At PHHYKY, we prioritized the customer-facing departments and their processes. Digitizing those creates the most value for the organization, and we were able to achieve quantifiable improvements to their digital maturity, based on a matrix that consisted of both quantitative and qualitative data, looking at stakeholder interviews, visibility, digital tool utilization and benefits to the customers served, arriving at a quantifiable 20.6% increase in PHHYKY's digital maturity level.
Many times, organizations' top leadership commonly believes that they can simply buy new technology, implement it quickly, and immediately start reaping the benefits - which is quite mistaken.There are many factors that contribute to the 70% failure rate of digital transformation journeys. So what are companies getting wrong?
First - mind-set and culture. Long-term, outcomes-focused thinking and a culture of experimentation and taking failures as learnings is the first step towards a successful digital transformation journey. Second - placing all their bets on technology. Of course, broadly speaking, the more recent and advanced the tools are, the better results one can expect, however, it's not the technology used that is at the core of digital transformation failures, it's that digital by default creates disruptive effects on businesses, requiring them to make significant changes to their organizational structure - from policies and processes, to procedures, and sometimes even a complete overhaul of their business model and talent acquisition, retaining and upskilling pipelines. It's a lot of change to address.
There are also internal factors that can hold an organization back from maturing digitally, some of which are easier to overcome than others. For instance, even if a company has the desire to develop its digital capabilities and a clear concept for doing so, it could get stuck if it lacks the requisite budget, internal expertise, strategy or tools. On the other hand, a company in that position is still likely to be much closer to digital maturity than those that aren't even prepared to adapt their culture and mindset to support innovation.
The process of digital transformation can feel pretty daunting but as long as the will is there, there are always steps that can be taken. When we work with our clients to develop their digital capabilities, we start by identifying what their biggest obstacles are and where they can most efficiently create value for their customers. This helps them to see the wood from the trees and leads naturally to setting out a pathway for what comes next, whether that's developing a new product, service, business model or carrying out further testing.
A good place to start is identifying the goal of this digital transformation journey - what is that the organization is hoping to achieve - and map out what is needed to reach the goal. Knowing that these journeys are long-term, and approaching the development process through agile sprints, makes the whole thing more tangible and achievable. It's also important to involve all stakeholders from both technical and product teams, as well as the business units heads, and generally break down the organizational silos, since digital transformation both encompasses and affects the entire organization.
Want to know more?
If you're wondering how to get started with your digital transformation process or want to discuss digital maturity with our experts, make sure to get in touch.
Andreas Lindqvist

Business Director, Futurice